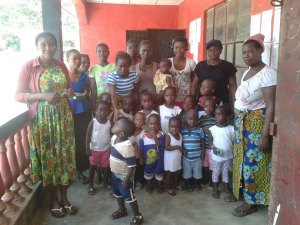 Excellent news from Newton today, 26th January 2017. At last the end is in sight for the completion of the Newton Preschool. Registration has begun and this is a photograph of some of the children who will attend. We hope to shortly have photographs of the opening day.
The project was proposed in the autumn of 2014 but became more urgent as the Ebola crisis took hold.  The Newton Committee had perceived a need for a Preschool in order to enable young women, especially those who have taken on the care of Ebola orphans, to work and thereby supplement the family income.  To date we have sent £25,000 and a carton of toys and other 'educational ' materials.  We have also provided a water well at a cost of approximately £3000, which will serve both the preschool and the Olney Institute next door.
Inflation in Sierra Leone is currently running at about 10%.  At the beginning of December the SL government raised the cost of fuel by a whopping 40%, from 4300Leones/litre to 6000Leones /litre thereby sending up the cost of most commodities. The treasurer, Mabinty Sesay, sends us accounts several times a year so that we know what they are buying with the money we send.
What does the Newton Committee spend the money on?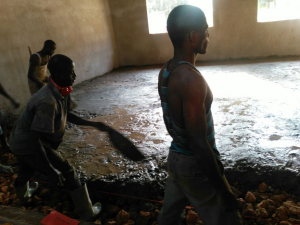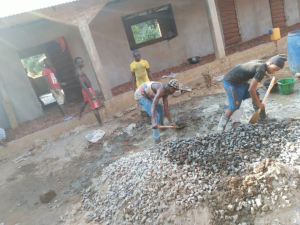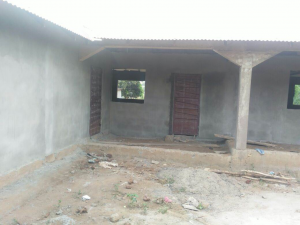 These are photos of the team hard at work building the new school.
So how has the money been spent? Basically on a standard set of materials that any builder would recognise. Initially foundations must be dug and then building blocks made. These are made of concrete, a longer lasting material than the mud blocks used for local housing. Cement has to be imported and the cost varies considerably.  Sand is extracted from the local beaches, a practice much criticised by environmentalists. We were intrigued to hear that the Newton committee had decided to include extra strengthening of the walls so that a second storey could be added at some future date. Land is something else that is becoming more expensive on an almost daily basis.
Roofing materials are then required. The most durable material is zinc, again this has to be imported and the price varies considerably. Doors and windows need to be made of metal to prevent termite damage, again all must be imported.
Other materials purchased are what anyone needs for building: nails, boards, iron rods, plaster, paint etc. and  of course, payment to the workmen. The average pay is approximately £1/hour. There is no machinery such as a JCB or concrete mixer, everything has to be done by hand.
Why does the cost of projects like this rise?
Firstly, we ask for an estimate of cost before we undertake a project BUT we have learned from experience that these are very unreliable. The way business is done in Third World Countries is a far cry from UK practices.  Builders, architects, plumbers etc. are self-taught and the idea of tendering for a job such as building a school is not understood. This also means they cannot always see in advance what is likely to be needed.
Secondly a small charity like ours cannot raise money quickly, we can only send money as we get it. As there are no credit facilities available in Sierra Leone the Newton committee can only purchase materials as the money comes in. In the meantime, the costs have risen.
Thirdly we are at the mercy of the exchange rate. An increase in the rate is good news in one way as we get more Leones for our £ BUT the cost of imported materials rises too.
A remarkable achievement?
Against this backdrop, plus many more problems such as heavy rains, the Newton Committee and Mabinty in particular have succeeded in building a preschool for at least 100 disadvantaged children. A remarkable achievement. I hope you agree and will continue to support the work of the Olney-Newton Link.
Rachel Lintern