Sailing to Sierra Leone!
Julie Palmer of Rockel Shipping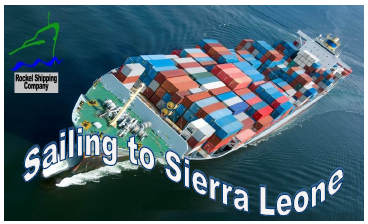 Julie Palmer is a Salonean who lives in East London. She was delighted to be asked to speak to us, having transported our goods for several years. Rockel Shipping is a family run business. It was started by her ex-husband in 1996. Julie took over as director in 2009; her sons and daughter work for the business too. Rockel gives 10% discount to charities (thank you!) and Julie has calculated that this helped charities by £9123.42 in the last financial year!
They used to donate 20% but have had to cut the rate in order to 'keep afloat' (pun intended!) due to rising costs in Sierra Leone.
Most of their goods go to the port of Freetown, the capital city, but they also send some machinery and vehicles to other ports in West Africa. They collect from all over the UK and ship everything to SL in containers. The journey takes 18 days. Containers are unloaded in Freetown and taken unopened to their office in the city—avoiding problems with pilfering and customs duty. Rockel have discovered that the best way to work is to pay duty on the whole container by volume, irrespective of contents. They have an office team of 11 people in Freetown. The clearing process at the port has improved considerably in the last three years—it's now less than 5 days to get the container from the docks, it used to take three weeks! Receipts for duty aren't forthcoming and it's unclear how much actually reaches the government.
They do not ship goods back to London—there isn't enough cargo, although SL does export timber, coffee, cocoa and minerals through other shipping lines. Julie grew up in a village on the outskirts of Freetown, sadly the one where the disastrous mudslide happened. She can see the aftermath from her mother's house. She is still a frequent visitor to Sierra Leone and is very grateful for all the work charities are doing.
Thank you Julie for a most interesting talk.