Olney Market

---

Welcome
to the Olney Newton Link

---

A local community charity, whose aim is to advance education and relieve poverty in Newton, Sierra Leone by the provision of charitable assistance.

Newton Market
Links between Olney, England and Newton, Sierra Leone
John Newton (1725 – 1807) was an Englishman who was "press ganged" into the Royal Navy. He later became captain of a slave ship and certainly worked from, and possibly lived on, Bunce Island, a major slave fort, close to Freetown, Sierra Leone.
He was nearly killed in a bad storm at sea and decided to repent and totally change his life. He became ordained as an evangelical Anglican cleric, serving the town of Olney in Buckinghamshire. He is known for writing the very famous hymn 'Amazing Grace'…..'which saved a wretch like me'.
Whilst in Olney, he became great friends with the poet, William Cowper (visit the Cowper and Newton Museum, Olney). They became prominent supporters of abolitionism – stopping the African Slave Trade. Working with friends such as politician William Wilberforce, they made a huge contribution towards the passing of the Slave Trade Act 1807 and the abolition of slavery.
In recognition of this, a town just outside of the capital city of Freetown, Sierra Leone, was named after Newton. There have been strong links between the towns of Newton and Olney for many years. Recognising the challenges that are faced by the population of Sierra Leone, one of the poorest countries in the World, the Olney Newton Link is doing as much as possible to work in partnership with and give support to the residents of Newton.
Read more in About on the menu bar.
Read more about John Newton here
---
Latest news
New Toilets for the PreSchool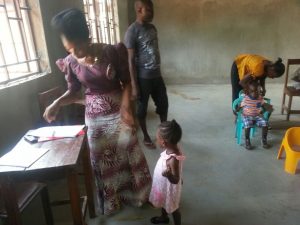 As you may remember, last year the Olney Newton Link was proud to support the building of a new PreSchool – a daytime centre for little people of preschool age who had lost their parents or carers during the Ebola outbreak.
However, we were concerned to hear that they don't yet have toilets – these little people are having to share the adult facilities in the next door Institute.  Our friends in Newton have confirmed that the children are in desperate need of their own toilet block and we have therefore sent over some of the precious funds that you have helped us to raise.
It is hoped that materials can be bought and preparations made, ready for construction once the rainy season has finished.  Thanks for all your help in making this happen!
---
Gold Sponsors