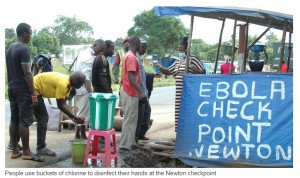 Umaru Fofana
PLEASE NOTE THAT THIS IS A PRESS RELEASE:
POLICE AIG SLAPS MILITARY OFFICER
Freetown, Sierra Leone, December 21, 2014 – I have been inundated with media enquiries since this evening with regards the slapping of a military officer by the Regional Police Commander, Freetown West, AIG Memunatu Conteh.
As a response, I can confirm that at about 4pm today, AIG Memuna (as she is commonly called) publicly slapped Warrant Officer (Class Two) Alimamy Dura at the Newton Checkpoint and also ordered her body guard to beat up the military personnel.
I can also confirm that the Newton Checkpoint would have become an UGLY SCENE this evening if the Warrant Officer and some other military personnel had not exercised restraint after the AIG Memuna's body guard (a Police Sergeant) had violently pushed the Warrant Officer.
I can attest that this is not the FIRST TIME that AIG Memuna has successfully carried out public humiliation against military personnel. There are many instances of her NOTORIETY towards RSLAF personnel.
Full Details of the Newton incident and the history of AIG Memuna's personal vendetta against the military will be published.
Contact: Captain Yayah Brima, Media Operations Cell, Headquarters Joint Force Command, Freetown.