The consequences of the ebola outbreak in Sierra Leone are many and varied, one of them being the effect on children.  Many died during the outbreak and many lost one parent or both parents or the person who was looking after them at the time.
Although not quite so badly hit as in some areas of Sierra Leone the people in Newton are no exception so they have put forward a plan for a Preschool/Day Care Centre for vulnerable children.
The proposal is for a building to accommodate 105 children plus teachers and helpers.  Not only will it help the children but more women will be able to work in places such as the Pineapple Plantation and contribute to the family income.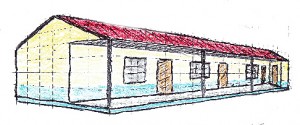 The scheme appears to propose 3 rooms of 20ft x 30ft accessed off a covered veranda, with at one end a Staff Room / Office, with a store room leading off this.  Each room being 10ft x 15ft.  [The sketch above is based upon a sketch plan  received from Mabinty]
This seems to be compatible with the approach to the Skills Training Centre and the schools we visited.
We have received an estimate of the cost of building this facility which at the present rate of exchange is approx £9,000.  This facility is urgently needed.
 PLEASE  COULD YOU HELP US TO ACHIEVE THIS?
Donations can be made through Virgin Money Giving, or to Tricia our treasurer (phone 712919).
Perhaps you would consider becoming one of our corporate sponsors, details from Anne (phone 711196).
Would you consider giving a small amount each month by Standing Order, Tricia has the details for this.
Many thanks indeed for all your support, past and present. I can assure you it is greatly appreciated by the people of Newton.
Rachel Lintern