The Matriculation Ceremony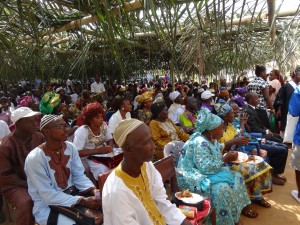 Yes I know you were all experiencing a milder than usual Christmas this year but in Sierra Leone the temperature was in the upper 30's . In case you are wondering, no we didn't tuck in to turkey and all the trimmings followed by an ample portion of Christmas pud!
On 19th December, we drove for 4 hours along a metalled road (believe me that is worth commenting on!), to visit Newton. We had been invited to attend the Matriculation Event – what we would call a Graduation Ceremony – for the first students who had been doing the courses at the Skills Training Centre. This is now known as the Newton Institute and is providing courses in accountancy, business studies, banking, engineering, IT, and sociology. The tutors are from local universities and the students from the local community.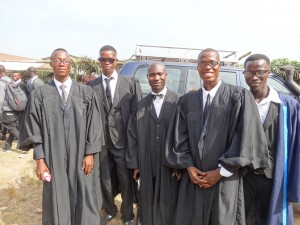 We were greeted like royalty and I hardly have the words powerful enough to describe the gratitude that the people
of Newton have for this facility. People of all ages are now able to study for the qualifications they have been unable to access through restrictions due to the Civil War in the 1990's, transport problems and more recently the ebola emergency. It was a privilege to be able to join them for the event that day.
The PreSchool
From there, we were quickly and proudly ushered to see the Preschool/Day Care Centre. It was not quite where we thought it was going to be as a land dispute, the scourge of Sierra Leone, had meant it had to be moved from the site originally earmarked. This had meant a loss of some building blocks and precious time, but nevertheless good progress has been made and the walls are approx. 4ft high. Since returning to UK we have been able to send some more funds so building has resumed. We were impressed that, because of the clamour for building land, the foundations and walls are being made strong enough to take a second storey if needed in the future. This facility is URGENTLY needed and we still have to get the roof on and the internal fixtures and fittings put in so please continue to support this important work.
Rachel Lintern