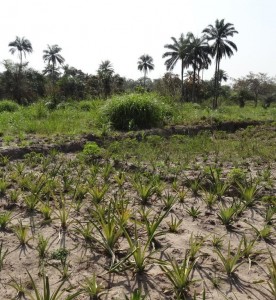 The Link is pleased to say that it's been asked to support the Pineapple Plantation project. The Plantation is a crop being planted by the women of Newton which we first became aware of 2 years ago (when we managed to get a bit of sponsorship from a local company). The women are working really hard to plant thousands of pineapples which will provide an income for their families – a brilliant undertaking which we really hope will provide some badly needed funds.
The plan is to sell some of the fruit to the local juice factory and some will be sold in the markets. Although the project started off very well, things have been badly hindered, both by wildfire and by the Ebola outbreak which killed or disabled a number of the workers. Ebola also stopped social interaction – a serious problem when plantation and harvesting is carried out through teamwork. Last year's crop was seriously lacking but we're thrilled that they have started the project again with the usual energy and belief.
Our friend Mabinty from Newton has told usOur business plan is, we decided to seek help from donors to plant 70000 pineapple suckers. We have already planted 20000 last year. This year we have planted 15000. We decided to do it by phases– every year we do the planting as we continue to seek for funds. Out of those plants we will get suckers from after harvest. The first plants suppose to produce this year but was burnt by wildfire. The products we will sell to the factory and fresh market."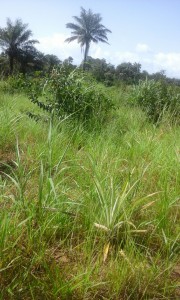 Mabinty has told us that the cost of the pineapple suckers is 300 leones /sucker (5p/sucker) and that they have to pay someone to clear the land. They plan is to make the project self-financing. The ONL intends to send them funds of 250 for this year's harvest.
As is common in Africa, the women are a major workforce who are often the only breadwinners within the family. However, they also expected to raise the family. You can read more about the PreSchool and how we are trying to raise funds to help them look after the children whilst allowing them to also work in the fields. See under News Post Ebola.