Projects
Preschool's end of term ceremony
We are really pleased to say that all of the hard work has paid off! The Preschool, which we helped to set up in response to the Ebola crisis which killed so many, is now up and running and doing really well.
Set up to look after young orphaned children whilst carers worked, the Preschool has just celebrated it's first end of term ceremony. We're told that the children read and sang, prizes were awarded and speeches made. A great success!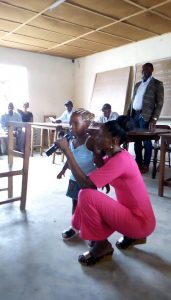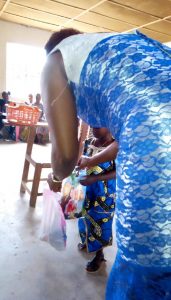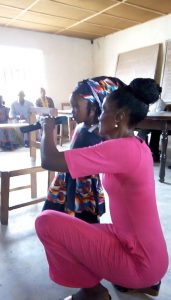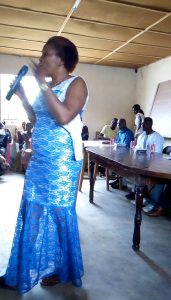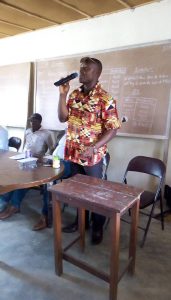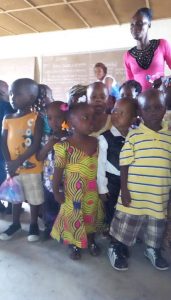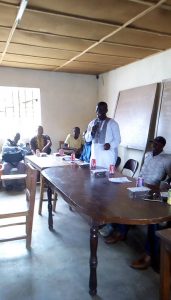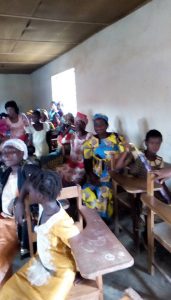 The photographs show (from left to right, rows 1 and 2):
1. Teacher and pupil reading rhymes, with Val King the Chair of the Newton Committee in the background;
2. Prize giving
3. Children reciting rhymes;
4. Mabinty giving welcome address;
5. Speech from Councillor;
6. Pupil reciting a rhyme;
7. Bakkar, secretary of the Newton Committee and Principal of the Institute, giving a vote of thanks;
8. Cross Section of parents and carers.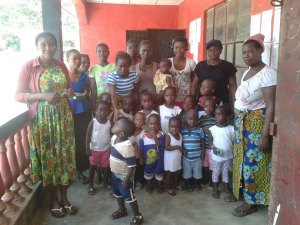 Excellent news from Newton today, 26th January 2017. At last the end is in sight for the completion of the Newton Preschool. Registration has begun and this is a photograph of some of the children who will attend. We hope to shortly have photographs of the opening day.
The project was proposed in the autumn of 2014 but became more urgent as the Ebola crisis took hold.  The Newton Committee had perceived a need for a Preschool in order to enable young women, especially those who have taken on the care of Ebola orphans, to work and thereby supplement the family income.  To date we have sent £25,000 and a carton of toys and other 'educational ' materials.  We have also provided a water well at a cost of approximately £3000, which will serve both the preschool and the Olney Institute next door.
Inflation in Sierra Leone is currently running at about 10%.  At the beginning of December the SL government raised the cost of fuel by a whopping 40%, from 4300Leones/litre to 6000Leones /litre thereby sending up the cost of most commodities. The treasurer, Mabinty Sesay, sends us accounts several times a year so that we know what they are buying with the money we send.
What does the Newton Committee spend the money on?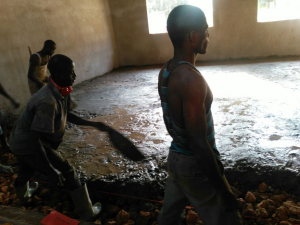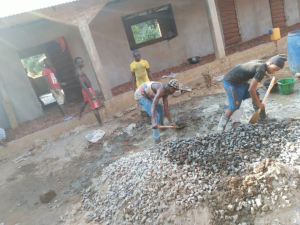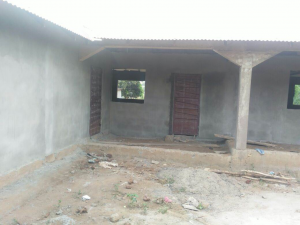 These are photos of the team hard at work building the new school.
So how has the money been spent? Basically on a standard set of materials that any builder would recognise. Initially foundations must be dug and then building blocks made. These are made of concrete, a longer lasting material than the mud blocks used for local housing. Cement has to be imported and the cost varies considerably.  Sand is extracted from the local beaches, a practice much criticised by environmentalists. We were intrigued to hear that the Newton committee had decided to include extra strengthening of the walls so that a second storey could be added at some future date. Land is something else that is becoming more expensive on an almost daily basis.
Roofing materials are then required. The most durable material is zinc, again this has to be imported and the price varies considerably. Doors and windows need to be made of metal to prevent termite damage, again all must be imported.
Other materials purchased are what anyone needs for building: nails, boards, iron rods, plaster, paint etc. and  of course, payment to the workmen. The average pay is approximately £1/hour. There is no machinery such as a JCB or concrete mixer, everything has to be done by hand.
Why does the cost of projects like this rise?
Firstly, we ask for an estimate of cost before we undertake a project BUT we have learned from experience that these are very unreliable. The way business is done in Third World Countries is a far cry from UK practices.  Builders, architects, plumbers etc. are self-taught and the idea of tendering for a job such as building a school is not understood. This also means they cannot always see in advance what is likely to be needed.
Secondly a small charity like ours cannot raise money quickly, we can only send money as we get it. As there are no credit facilities available in Sierra Leone the Newton committee can only purchase materials as the money comes in. In the meantime, the costs have risen.
Thirdly we are at the mercy of the exchange rate. An increase in the rate is good news in one way as we get more Leones for our £ BUT the cost of imported materials rises too.
A remarkable achievement?
Against this backdrop, plus many more problems such as heavy rains, the Newton Committee and Mabinty in particular have succeeded in building a preschool for at least 100 disadvantaged children. A remarkable achievement. I hope you agree and will continue to support the work of the Olney-Newton Link.
Rachel Lintern
The Matriculation Ceremony
Yes I know you were all experiencing a milder than usual Christmas this year but in Sierra Leone the temperature was in the upper 30's . In case you are wondering, no we didn't tuck in to turkey and all the trimmings followed by an ample portion of Christmas pud!
On 19th December, we drove for 4 hours along a metalled road (believe me that is worth commenting on!), to visit Newton. We had been invited to attend the Matriculation Event – what we would call a Graduation Ceremony – for the first students who had been doing the courses at the Skills Training Centre. This is now known as the Newton Institute and is providing courses in accountancy, business studies, banking, engineering, IT, and sociology. The tutors are from local universities and the students from the local community.
We were greeted like royalty and I hardly have the words powerful enough to describe the gratitude that the people
of Newton have for this facility. People of all ages are now able to study for the qualifications they have been unable to access through restrictions due to the Civil War in the 1990's, transport problems and more recently the ebola emergency. It was a privilege to be able to join them for the event that day.
The PreSchool
From there, we were quickly and proudly ushered to see the Preschool/Day Care Centre. It was not quite where we thought it was going to be as a land dispute, the scourge of Sierra Leone, had meant it had to be moved from the site originally earmarked. This had meant a loss of some building blocks and precious time, but nevertheless good progress has been made and the walls are approx. 4ft high. Since returning to UK we have been able to send some more funds so building has resumed. We were impressed that, because of the clamour for building land, the foundations and walls are being made strong enough to take a second storey if needed in the future. This facility is URGENTLY needed and we still have to get the roof on and the internal fixtures and fittings put in so please continue to support this important work.
Rachel Lintern
The Link is pleased to say that it's been asked to support the Pineapple Plantation project.   The Plantation is a crop being planted by the women of Newton which we first became aware of 2 years ago (when we managed to get a bit of sponsorship from a local company).  The women are working really hard to plant thousands of pineapples which will provide an income for their families – a brilliant undertaking which we really hope will provide some badly needed funds.
The plan is to sell some of the fruit to the local juice factory and some will be sold in the markets.   Although the project started off very well, things have been badly hindered, both by wildfire and by the Ebola outbreak which killed or disabled a number of the workers.  Ebola also stopped social interaction – a serious problem when plantation and harvesting is carried out through teamwork. Last year's crop was seriously lacking but we're thrilled that they have started the project again with the usual energy and belief.
Our friend Mabinty from Newton has told us 'Our business plan is, we decided to seek help from donors to plant 70000 pineapple suckers. We have already planted 20000 last year. This year we have planted 15000. We decided to do it by phases, – every year we do the planting as we continue to seek for funds. Out of those plants we will get suckers from after harvest. The first plants suppose to produce this year but was burnt by wildfire. The products we will sell to the factory and fresh market.'
Mabinty has told us that the cost of the pineapple suckers is 300 leones /sucker (5p/sucker) and that they have to pay someone to clear the land. They plan is to make the project self-financing.  The ONL intends to send them funds of £250 for this year's harvest.
As is common in Africa, the women are a major workforce who are often the only breadwinners within the family.  However, they also expected to raise the family.  You can read more about the PreSchool and how we are trying to raise funds to help them look after the children whilst allowing them to also work in the fields.  See under 'News – Post Ebola'
| | |
| --- | --- |
| We live in a country which loves its children.  Imagine if a British child lost its mum and dad and maybe its brothers and sisters too – our hearts would go out to them. It has been reported that 3,912 people have died from Ebola in Sierra Leone (BBC news 8th June 2015).  Thousands of children have lost their mums, dads, brothers and sisters.  There are horrific stories where houses have been entered, only to find the whole household dead and one little child sitting alone. |   |
In Newton, 105 children have lost parents and are now being looked after by single parents, extended family or friends.  Many of these people are working or have other things which keep them from full time childcare. There is no such things as a 'State Benefits' system in Sierra Leone – you have to work to stay alive.
We need your help now.  Can you help us to raise £10,000 to build a new 'Preschool'?  This school will provide care during daytime hours.  The Committee in Newton (Olney Newton Link) have told us that it's desperately needed.
The scheme proposes that a building will be constructed (sketch above) to accommodate 105 children.  There will be 3 rooms (20x30ft) with a large covered veranda, staff room/ office and store room (10x15ft).  At the present rate of exchange, it is expected to cost approximately £10,000 to build – not a large amount compared to UK prices!
Please help!  It's desperately needed – lives have been devastated.
See the page on this website titled 'how you can help'
Please visit us on Facebook