Chloe Kegg
Get your vocal cords ready for Christmas!
Join your neighbours and have a lovely evening singing to the residents of Olney and raising money for the town of Newton. We will be meeting at 6.30pm on the Market Place. It's great fun!
Children's Lucky Dip and Games
Make sure you come and support the Olney Newton Link stand – a brilliant lucky dip and games for the kids!
The Link is pleased to say that it's been asked to support the Pineapple Plantation project.   The Plantation is a crop being planted by the women of Newton which we first became aware of 2 years ago (when we managed to get a bit of sponsorship from a local company).  The women are working really hard to plant thousands of pineapples which will provide an income for their families – a brilliant undertaking which we really hope will provide some badly needed funds.
The plan is to sell some of the fruit to the local juice factory and some will be sold in the markets.   Although the project started off very well, things have been badly hindered, both by wildfire and by the Ebola outbreak which killed or disabled a number of the workers.  Ebola also stopped social interaction – a serious problem when plantation and harvesting is carried out through teamwork. Last year's crop was seriously lacking but we're thrilled that they have started the project again with the usual energy and belief.
Our friend Mabinty from Newton has told us 'Our business plan is, we decided to seek help from donors to plant 70000 pineapple suckers. We have already planted 20000 last year. This year we have planted 15000. We decided to do it by phases, – every year we do the planting as we continue to seek for funds. Out of those plants we will get suckers from after harvest. The first plants suppose to produce this year but was burnt by wildfire. The products we will sell to the factory and fresh market.'
Mabinty has told us that the cost of the pineapple suckers is 300 leones /sucker (5p/sucker) and that they have to pay someone to clear the land. They plan is to make the project self-financing.  The ONL intends to send them funds of £250 for this year's harvest.
As is common in Africa, the women are a major workforce who are often the only breadwinners within the family.  However, they also expected to raise the family.  You can read more about the PreSchool and how we are trying to raise funds to help them look after the children whilst allowing them to also work in the fields.  See under 'News – Post Ebola'
| | |
| --- | --- |
| We live in a country which loves its children.  Imagine if a British child lost its mum and dad and maybe its brothers and sisters too – our hearts would go out to them. It has been reported that 3,912 people have died from Ebola in Sierra Leone (BBC news 8th June 2015).  Thousands of children have lost their mums, dads, brothers and sisters.  There are horrific stories where houses have been entered, only to find the whole household dead and one little child sitting alone. |   |
In Newton, 105 children have lost parents and are now being looked after by single parents, extended family or friends.  Many of these people are working or have other things which keep them from full time childcare. There is no such things as a 'State Benefits' system in Sierra Leone – you have to work to stay alive.
We need your help now.  Can you help us to raise £10,000 to build a new 'Preschool'?  This school will provide care during daytime hours.  The Committee in Newton (Olney Newton Link) have told us that it's desperately needed.
The scheme proposes that a building will be constructed (sketch above) to accommodate 105 children.  There will be 3 rooms (20x30ft) with a large covered veranda, staff room/ office and store room (10x15ft).  At the present rate of exchange, it is expected to cost approximately £10,000 to build – not a large amount compared to UK prices!
Please help!  It's desperately needed – lives have been devastated.
See the page on this website titled 'how you can help'
Socialise with your neighbours and enjoy some nibbles and a glass of wine!
Come and join us for a lovely evening at 34 Carey Way, Olney.  We can promise great company and lovely food. Saturday 30th April 2016 at 7.30pm.
R.S.V.P. to Rachel on: 01234 711751 or Anne on: 01234 711196. Email: blintern@aol.com
Proceeds will be used to help us complete and furnish the Pre-school in Newton.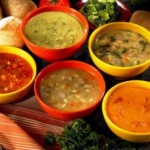 Warm up with a tasty bowl of soup and good company
Another chance to eat well and enjoy the company of your neighbours. A lovely soup lunch will be served at 34 Carey Way, Olney.
Tickets are available for lunches at 12.15, 12.45 and 1.15pm. Lunches are free but a donation to ONL would be appreciated. The money will be going towards furniture for the preschool. Tickets available by ringing 01234 711751 or 01234 711196.
Please visit us on Facebook