Chloe Kegg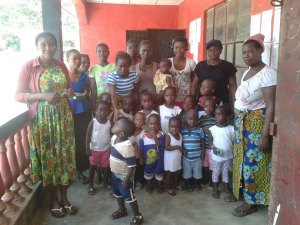 Excellent news from Newton today, 26th January 2017. At last the end is in sight for the completion of the Newton Preschool. Registration has begun and this is a photograph of some of the children who will attend. We hope to shortly have photographs of the opening day.
The project was proposed in the autumn of 2014 but became more urgent as the Ebola crisis took hold.  The Newton Committee had perceived a need for a Preschool in order to enable young women, especially those who have taken on the care of Ebola orphans, to work and thereby supplement the family income.  To date we have sent £25,000 and a carton of toys and other 'educational ' materials.  We have also provided a water well at a cost of approximately £3000, which will serve both the preschool and the Olney Institute next door.
Inflation in Sierra Leone is currently running at about 10%.  At the beginning of December the SL government raised the cost of fuel by a whopping 40%, from 4300Leones/litre to 6000Leones /litre thereby sending up the cost of most commodities. The treasurer, Mabinty Sesay, sends us accounts several times a year so that we know what they are buying with the money we send.
What does the Newton Committee spend the money on?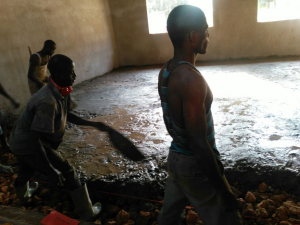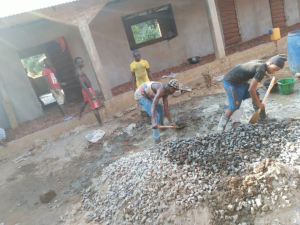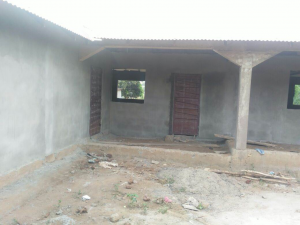 These are photos of the team hard at work building the new school.
So how has the money been spent? Basically on a standard set of materials that any builder would recognise. Initially foundations must be dug and then building blocks made. These are made of concrete, a longer lasting material than the mud blocks used for local housing. Cement has to be imported and the cost varies considerably.  Sand is extracted from the local beaches, a practice much criticised by environmentalists. We were intrigued to hear that the Newton committee had decided to include extra strengthening of the walls so that a second storey could be added at some future date. Land is something else that is becoming more expensive on an almost daily basis.
Roofing materials are then required. The most durable material is zinc, again this has to be imported and the price varies considerably. Doors and windows need to be made of metal to prevent termite damage, again all must be imported.
Other materials purchased are what anyone needs for building: nails, boards, iron rods, plaster, paint etc. and  of course, payment to the workmen. The average pay is approximately £1/hour. There is no machinery such as a JCB or concrete mixer, everything has to be done by hand.
Why does the cost of projects like this rise?
Firstly, we ask for an estimate of cost before we undertake a project BUT we have learned from experience that these are very unreliable. The way business is done in Third World Countries is a far cry from UK practices.  Builders, architects, plumbers etc. are self-taught and the idea of tendering for a job such as building a school is not understood. This also means they cannot always see in advance what is likely to be needed.
Secondly a small charity like ours cannot raise money quickly, we can only send money as we get it. As there are no credit facilities available in Sierra Leone the Newton committee can only purchase materials as the money comes in. In the meantime, the costs have risen.
Thirdly we are at the mercy of the exchange rate. An increase in the rate is good news in one way as we get more Leones for our £ BUT the cost of imported materials rises too.
A remarkable achievement?
Against this backdrop, plus many more problems such as heavy rains, the Newton Committee and Mabinty in particular have succeeded in building a preschool for at least 100 disadvantaged children. A remarkable achievement. I hope you agree and will continue to support the work of the Olney-Newton Link.
Rachel Lintern
Join us for pancakes!
Pancake racing is World famous – a tradition since the C15th – and Olney does it in style!  The first pancake race starts at 11.55am.
Come and join us at our stall in the town centre and enjoy the excitement of Shrove Tuesday.  Easter Eggs and other exciting things to win.
Win money on the horses!
SORRY – THIS EVENT HAS BEEN CANCELLED
Who said it gets boring after Christmas?! The Carlton House Club in Olney will be hosting a great night out where you can support the Olney Newton Link whilst hopefully winning a few pennies yourself. Place your bets and watch the races on screen – the excitement is tangible! £7.50 per person including a sausage and chip supper. Bar available.
The first race starts at 7.30pm. Tickets available from the Carlton House Club, 38 High Street, Olney. Tikcets also available from CT Wilson and the Phonebox. Enquiries tel: 01234 711196, 712540 & 711751
Click here for more details
Love Carol singing?
Join your Olney neighbors in singing on every day of the 24 days of advent (or at least sing on some of them!) Organised by the Churches of Olney, join us in singing Carols at the door of the following venues. The plan is to sing for about ten minutes at each venue and raise funds for local charities including the Olney Newton Link.

Who was the first president of Zimbabwe?
Do you know the answer?! Would you like to know the answer or do you just enjoy quizzes? We'd love to see you. Grab some friends – teams of up to 6 people – and enjoy an evening complete with supper and soft drinks.  Cost £8.50 per head, inclusive of quiz, food and drink. All in aid of the Olney Newton Link.
Quiz night to be held at The Olney Centre, High Street, Olney MK46 4EF.   Arrive at 7.15pm for a prompt start at 7.30pm. Tickets are available from the Phonebox or CT Wilson. Enquiries ring: 01234 711196 or 711751.
Enjoy a beautiful musical performance
We're pleased to announce that The Milton Keynes Sinfonia Chamber Group are holding a concert at the Olney Parish Church in support of The Friends of Cobbs Garden Surgery and the Olney Newton Link. The programme will include music by Mozart, Corelli, Stamitz and Gordon Jacob together with arrangements of music by Simon & Garfunkel, Joni Mitchell and other popular and traditional music including The Girl form Ipanema and Danny Boy. Refreshments will be available.
Tickets are £10 and can be purchased in advance from CT Wilson, 84 High Street, Olney; Cobbs Garden Surgery, West Street, Olney and The Phone Box, Stanley Court, Olney. They will also be available at the door – Parish Church of St Peter and St Paul, Church Street, Olney MK46 4AD. Click here for further information.
We're nearly there!  Our friends in Newton have sent us photographs of the new Preschool roof being built (sent July 2016). Fingers crossed the building will be in use by September this year.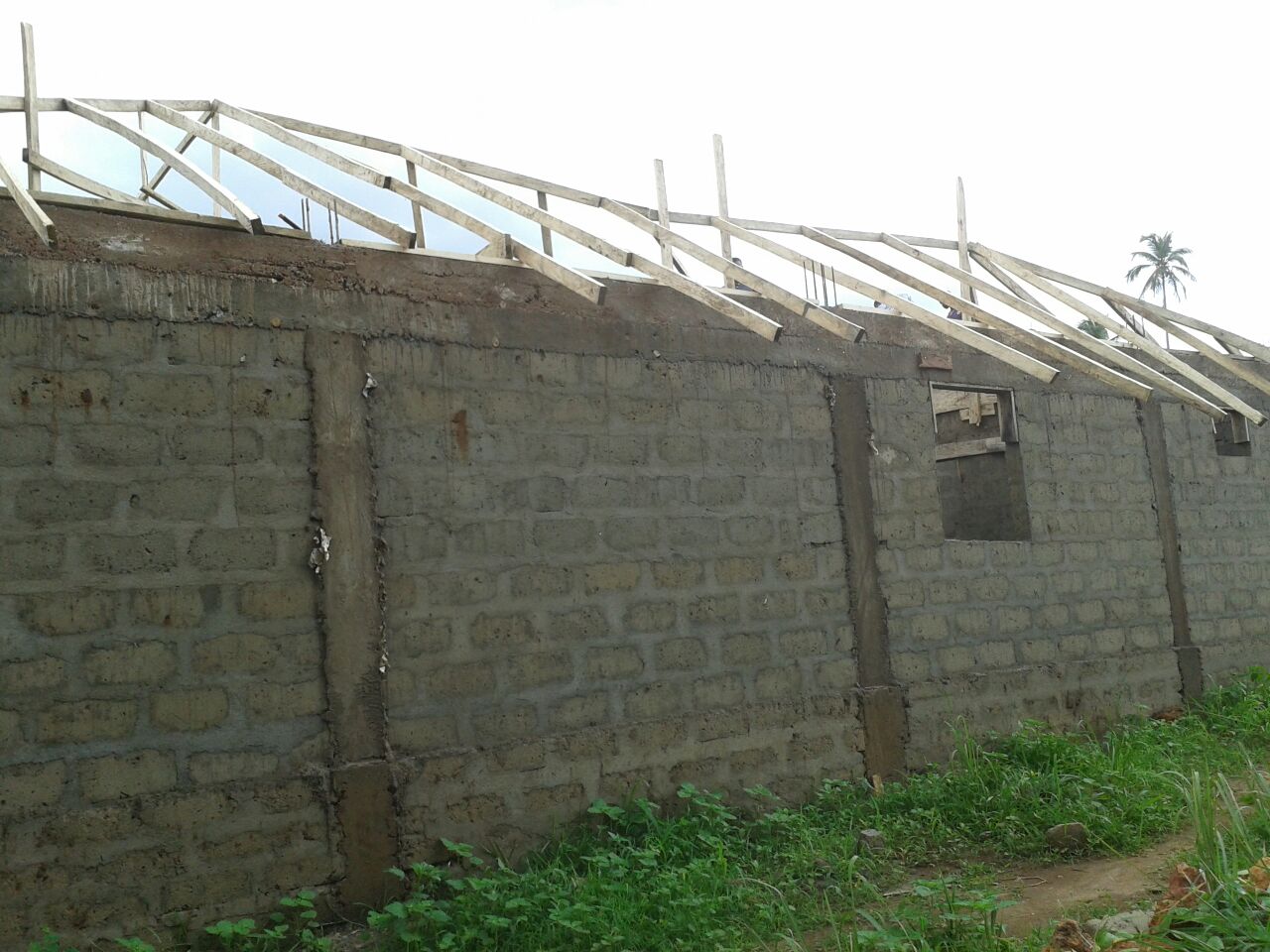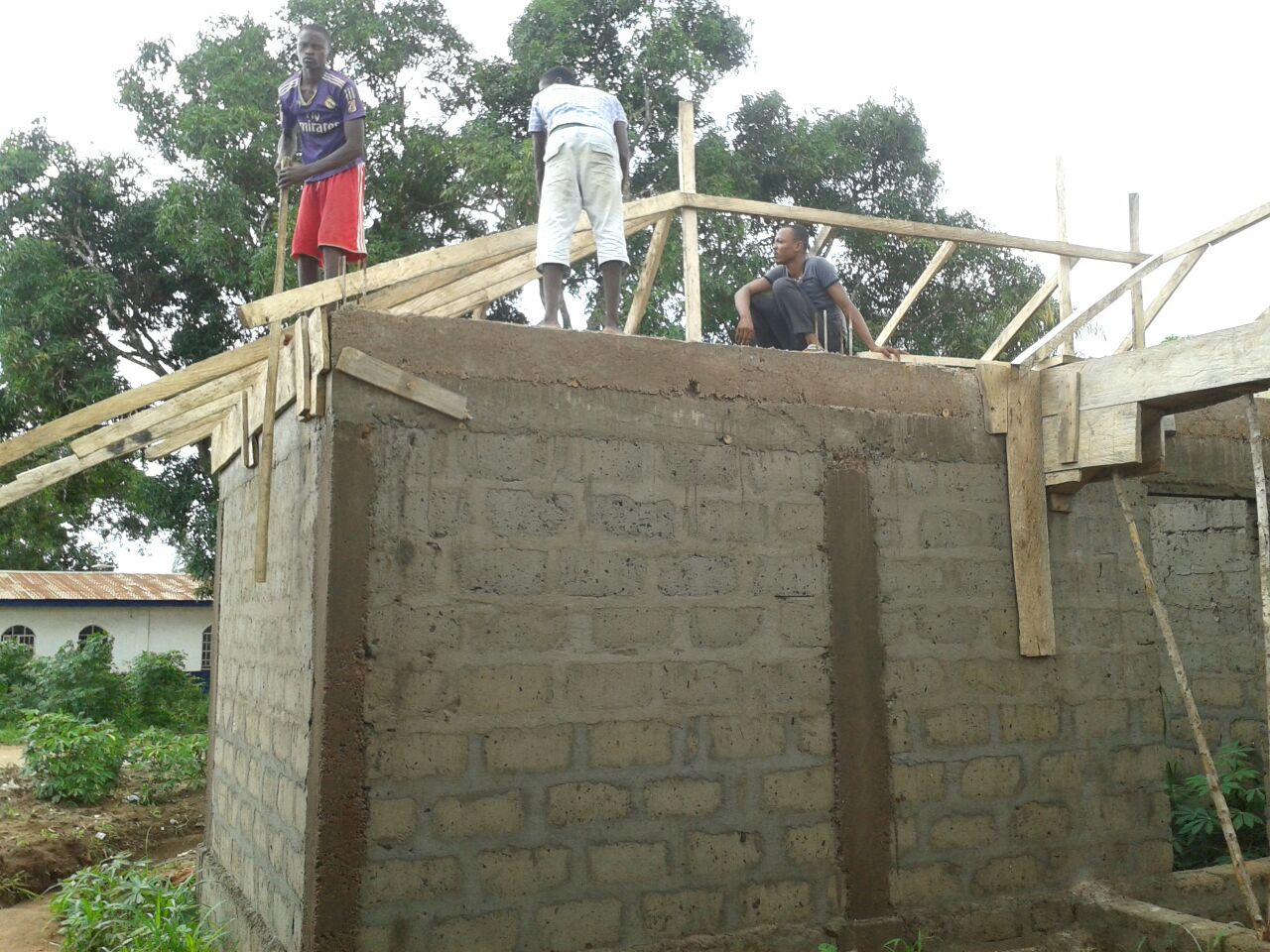 Enjoy a cuppa with the neighbours
Isn't it lovely to sit in t
he back garden enjoying a cup of tea, piece of cake and having a nice chat with the neighbours? We have ordered the sun to shine (hopefully it will, being August!) and we are inviting you all to join us at 34 Carey Way, Olney for a wonderful afternoon tea.
Tickets cost £5 in aid of the Newton Preschool Fund. Help us to raise the roof! Please buy your tickets in advance from Anne on 01234 711196 or Rachel on 01234 711751.
To enjoy a cuppa with the neighbours please click here for further information.
A day at the pub!
Come and join us for a day of family fun at the Two Brewers Pub in the centre of Olney (34 High Street).  The Two Brewers is a traditional public house which is kindly hosting lots of brilliant events for everyone to get involved in. Family events will be during the afternoon followed by music in the evening.  All proceeds will be going to the Olney Newton Link.
All the fun of the Fair
It is well known that Olney has a fantastic heritage. However, did you know that part of that heritage includes the production of a large cherry crop? Each year the glut was sold off at the end of the harvest and the town had a holiday. This became known as the 'Cherry Fair' – a Country Fair with country dancing, tug of war, side-shows, stalls and refreshments. Naturally the Link will be at the heart of this year's events. Come and join us at our Tombolda stall and help to join the celebration.
Please visit us on Facebook